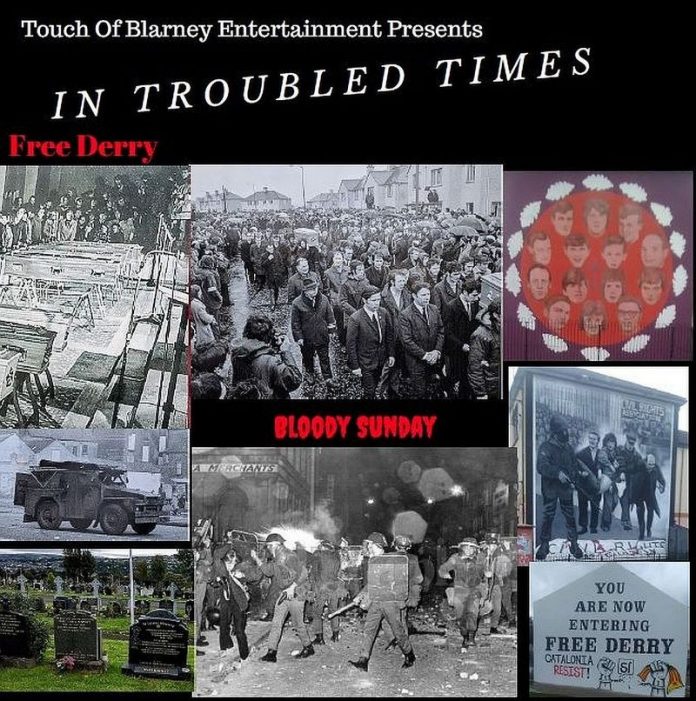 Touch Of Blarney present their new release 'In Troubled Times' by Various Artists
With some of Chicago's finest artists brilliantly performing some of the most beautiful and moving songs that were the product of the troubled and rebellious Irish historical experience, the lyricists of the songs on the album, like the bards of Medieval Times, have chronicled their moment of history. It is the traditional folk music of a people whose spirit bruised but unbroken has been etched on the Irish character.
"In Troubled Times" takes one on a journey through time from the Uprising of 1798 with a unique version of "Wearing of the Green"', with the music of the turbulent 19th century, the commemorations of the formation of the Irish Republic, and with the on-going struggle of the Irish people for equality. From the bloody streets of "Free Derry" to that" Dirty Old Town," Belfast through the satire of Tommy Makem and the poetry of Phil Coulter to the folk rock of John Lennon and the solemn reflection of Mickey MacConnell and with a bit of old fashioned Irish good humor and a comforting lullaby you will find yourself, In Troubled Times.
FOLLOW ON: TWITTER | FACEBOOK | WEBSITE