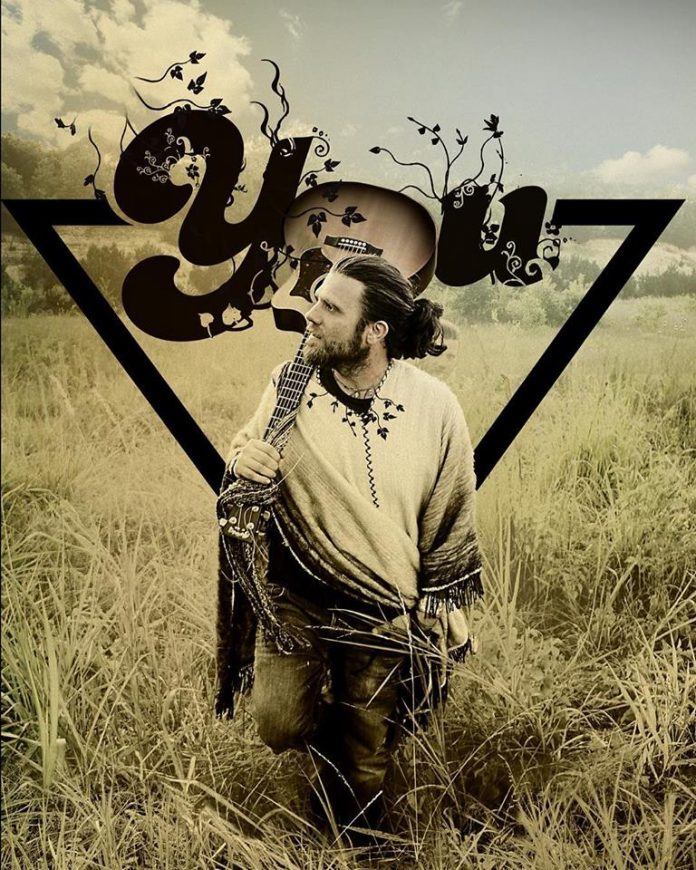 Ezra Vancil has hit the quintessence of musical potential on his newest album 'You' homing in on the vital artistry of modern folk music. The orchestration of multifaceted instruments is an impressive gift that Vancil possesses to mesh all distinct elements cohesively into a lucid and effectively emotive combination of elaborate sound.
This simultaneously infused with the minimalist conceptualizations of the music inspire acoustic driven melodies that portray a testament to a sense of authenticity within the folk-rock genre. There is a sense of optimism within the music that captivates the listening audience and incites a deep understanding with the songwriter's existential apparitions. The primal elements of the music tap into a natural concept of sound that resonates within the laws of timeless talent.
The complexities embedded in the percussion syncopation patterns in relation to the guitar chords move effortlessly in a matted rhythmic mission of musical harmonies. The beautifully reverberated vocals are luxurious with a thought provoking execution that display a sense of power in its own rite of passage congruent with the songwriting's intention.
"You" packs on the extra and much needed enthusiast earnestness that folk music has been lacking transforming its frequencies into a fresh flow of countenance.
YOU CAN LISTEN TO 'YOU' BY EZRA VANCIL HERE: 
PRESS RELEASE:
Though this era of streaming and downloading has relegated the notion of analyzing album covers to something of an afterthought, Ezra Vancil's discerning fans will immediately pick up on something unique about the sepia toned artwork on his new full length collection, simply titled You.
The veteran Dallas based singer-songwriter is walking through a brush filled field, trusty acoustic guitar over his shoulder, fronting the eye-catching triangular logo with the album title – but his name is nowhere to be seen. There's a powerful method behind this cool, slightly risky (from a promotional standpoint) madness. After years of heavily introspective songwriting and performances as a hard edged, Peter Gabriel influenced alt-indie rocker, Ezra marks his long-awaited return to his acoustic Americana roots with a set of songs focused not on him but "the other" – in this case, his wife of ten years.
"Instead of the usual songwriting approach, with me thinking about and analyzing my feelings," he says, "I wanted to turn the perspective around and write about my significant other, with songs that are meaningful to both of us. One of the song titles is 'History of Love,' and that's what it is. I had a vision for the project and wrote out a narrative, with ten songs signifying our decade together. I wrote a song
for each year that defined the patterns throughout our marriage – from a narrative on how we met, through our separation and until we reunited. There's an actual life event that corresponds with every song. It runs from infatuation to marriage to even our 'divorce years,' and then falling in love again."
Explaining the fascinating arc whose details he frames in music that's raucous and lively one minute, soulfully grooving and harmonically lush and graceful the next, Ezra adds, "We were best friends growing up, got married much later in life, went through a divorce in our eight years of marriage, went on to other lovers and lives and eventually decided to try again – and fell into a new kind of unconditional love." Though he does not refer to it directly in the songs, at the core of the couple's turmoil and breakup were individual substance abuse issues. The story's ultimate theme of survival and redemption is driven by Ezra's recovery, which in turn gave him the strength to help his wife overcome her own addictions.
You opens with the gentle acoustic ease of "Galveston," about the end of Ezra's first marriage, finding the strength to let her go and to wish her well; and "Complicated Man," which taps into his lifelong infatuation with his future wife and the beginning of their reunion and upbeat love story in their early 30's. As a child of hippie parents himself, he relates to her inner hippy, but still struggles to accept her as a "Wild Girl" who swims with dolphins and runs off to every corner of the world. As he learns to embrace her path, the two discover an explosive sexual re-awakening in "Get Together (This Ain't No Love Song"). "Broken King" finds Ezra acknowledging deep flaws and addressing the dichotomy of finding the loves of their lives under extraordinarily challenging personal circumstances. The fearful tension that she might leave leads to "Don't Push Me Away" and her subsequent divorce filing, which is followed by the random dalliances of the grass is always greener tune "Polka Girl from Tennessee" and "History of Love," which taps into the reality that sometimes letting go is the most loving thing one can do. Hope and redemption enter the picture when they decide to reconcile and "Settle Down Good" and he realizes that "You Were Meant to Be Mine."
Ezra says, "My current vibe is a return for me to the music my parents played and what they introduced me to – mostly songwriter music, 70's folk and country and artists like Cat Stevens, Jim Croce, Simon & Garfunkel, Johnny Cash, Bob Dylan, Emmylou Harris, The Band and Joni Mitchell – mixed with the folk/Americana gospel feel that was always around me. I also see You as a return to my true musical heart. I think over the years, I tried to hide the 'Texas'/Country/Americana aspects of my influences and it was really liberating and fulfilling to let them really be a part of this new album."
FOLLOW ON: TWITTER | FACEBOOK | WEBSITE