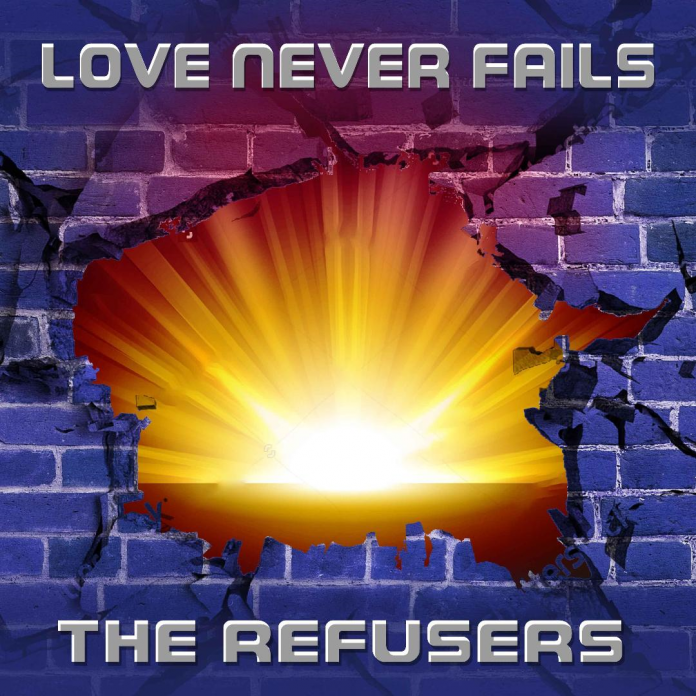 Check out this music review of the new single, 'Love Never Fails' by The Refusers
The Refusers is an indie rock band from Seattle. Their most recent release, "Love Never Fails" has a truly unique approach. On one hand, their sound makes me think of amazing artists such as R.E.M. or Social Distortion, but on the other, the vocals have a timeless feel, which makes me think of artists such as Tom Petty or Neil Young, among others.
The track has a distinctive production, with a sound that goes back to basics with what it means to create head-on rock songs that don't need to distract listeners with useless frills. All you have is some great riffs, and some amazing tracks, setting the bar higher in terms of music aesthetics and lyrics. The song writing is earnest and personal, showcasing a very positive attitude and a message of love, which is what we all need in these tough times and crazy days.
Find out more about The Refusers and do not miss out on "love Never Fails," which is currently available on Soundcloud and elsewhere on the web.
No indie rocker has spoken more fiery and incisive truth to power during this corrupt and divisive Trump era than Michael Belkin, a former Wall Street insider who, as frontman and songwriter for his Seattle based band The Refusers, took a stand against the dumbing down of our country in 2016's Wake Up America and 2018's incendiary Disobey – a hard-edged clarion call to refuse to accept the messed-up way things are and fight back.
Now The Refusers are doing their damndest to keep us together by sharing a simple uplifting message that speaks to our crucial moment in history. Their infectious, mid-tempo rock anthem "Love Never Fails" tells us what we should already know but often fail to embrace.
Drawing from the Apostle Paul, The Beatles, Marvin Gaye and everyone else who ever had the courage to write about this universal truth, Belkin sings in the hook, "Love is gonna shine, love is patient, love is kind, it does not envy, it does not mind. Love does not anger, does not have pride, it's never weak, it's always strong, love keeps no record of wrongs. It don't come cheap but it's not for sale, love never fails!"
"For some, it may feel a bit out of character from The Refusers more punky hard-edged sound," Belkin says, "but I honestly just set out to write a song about unselfish love. The melody came to me in a dream. I have dreams where I hear melodies in the background as if they're on a radio. The challenge is to wake up and write it down before it disappears. With that as my foundation, I asked myself what is love? So many love songs are simply about lust or other self-centered notions that pass for superficial love these days. Physical attraction is important, yes, but if you're gonna make a relationship work long term, you need to be patient and kind. If you have kids, another form of love happens where patience and forbearance are crucial. The truth is always right there in front of us, written on the wall like graffiti. The challenge is, do we heed it and incorporate it into our lives?"
As The Refusers continue working on their upcoming empowering full length album Freedom Fighter – which, Belkin promises, will include some reggae and ska elements to balance their trademark punkish rock vibe – the band is releasing another, pointed and hard hitting track simultaneously with "Love Never Fails." The scorching blues-rocker "Shame on You" finds the band ragging on this era of false prosperity and the huge gap between the gloating haves and the suffering have nots. It's an anthem of a whole other stripe, beginning with these biting lines: "You sold your soul for a pot of gold/Now you're rolling in the dough/But your love has grown cold/Where did the good times go?"
"Today is similar to the Gilded Age in the late 19th Century where there was this huge gap between the plutocrats and the factory workers who helped them make their fortunes," Belkin says. "Times eventually changed, and then the crash of 1929 came, showing how fragile prosperity is and how the pendulum can quickly shift into hard times. Having worked on Wall Street, I was witness to the arrogance of the gold-plated hedge fund crowd and there will be a comeuppance where the scales balance. Modern day plutocrats have milked the system until it's dry. 'Shame On You' is my way of addressing how this leaves love and kindness out of the equation."
The Refusers' modern rock sound is galvanized by Hammond organ master Joe Doria, drummer legend Brendan Hill, bassist/background vocalist extraordinaire Steve Newton and Belkin's vocals, 12 string, slide and smoking rock electric guitars.