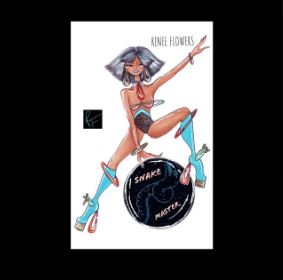 Renee flowers introducing brand new song: Snake Master
Reneeflowers is a recording artist hailing from Los Angeles, California. She has just released a brand new single titled "Snake Master".

In this track, Reneeflowers creatively explores pop lyrics and electronic beats. Her style is reminiscent of the likes of pop stars such as Billy Eilish, Dua Lipa, and Ariana Grande. She has that same playful and inviting vocal style with a catchy hook and hypnotic beat. The melody and lyrical composition in this number is memorable, and the contemporary production aesthetic brings a crisp and clean feel to the soundscape.
As an artist, Reneeflowers has an amazing amount of versatility and a unique style that makes her stand out in the industry as a mover and a shaker. She is definitely an up and coming star that listeners need to keep an eye on! 
Head over to Spotify now to listen to Reneeflowers's brand new release "Snake Master".
You can also follow the artist on her socials to stay tuned for brand new music and more!
FOLLOW ON:  INSTAGRAM | WEBSITE