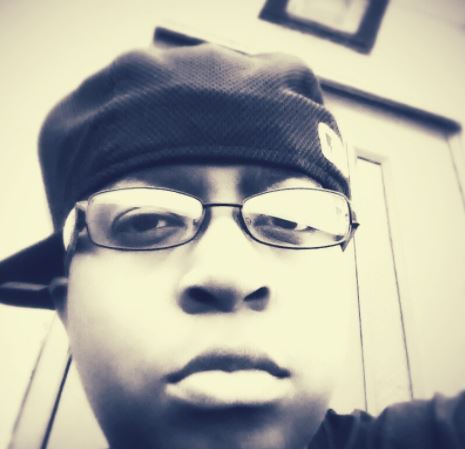 I was born and raised in the DC area but living in NC the past 15 years. Music has always been a passion of mine since the late 80s. My style doesn't follow the traditional mainstream market of what you hear on the radio. I use my music to influence and let my audience know that whatever they are going through in life I've been down that road as well. It's all about connecting with the fans and building that trust and understanding with your music.
Where are you from?
Born in the DC area and grew up in Virginia. I moved to NC about 15 years ago near the Wilmington area and loving it ever since.
How long have you been making music?
I first started writing raps when I was probably like 8 years old. I made 2 raps while I was in elementary school and performed them in talent shows. Ever since then I would either freestyle with my friends in school or just write in my notebook that I would always keep on me. Never left the house without my rhymes!
How many songs /albums have you released to date?
My first CD i came out with back in 2005 it was called "Crime Syndicate" that had I believe 12 songs on it. This new album I just released "23709" it had 14 songs on it written and produced by me.
You can check out '23709' here
Can you tell us about your latest release and the background and inspirations behind it?
My latest release was based on actually a conversation I had with my sister about whether or not I should do music again. I wasn't sure what direction I was going to take if I should follow the mainstream or sculpt my rhymes as my first release and she told me to be vulnerable and get the message out. I had to step back and honestly let God take my mind into a place of what the people want to hear or what is needed out now something fresh. 23709 the numbers are based on the first area codes of the places I have lived with 237 being DCMD/VA, 0 being UK and 9 being North Carolina that's how the order of the album is set your going on a journey into my life.
How have you ended up in the music industry?
Music is my passion that's something that drives me in everyday life. I have met big names before in the past and have been fans of them and watch their progression coming up. It's a dog eat dog world within the industry but sometimes the independent scene goes unnoticed. We work just as hard getting our music out to fans that have their own selection of artist and honestly it's tough.
What do you think of the music industry in 2021?
The music industry in 2021 to me theirs too many copycats. Everybody has to have the same cadence, same tempo and same story line. I like hearing different artist that produce music in their basement or bedroom studio and put their heart and soul into it. Its not always about the money, fancy cars and jewelry. Yes rap is based off the format of bragging but some what to hear more that just that. I
Who do you think the most influential artist?
The artist to me I think that has influenced me a lot and yes you can tell my age with this one and it's Prince. Anybody who can write their own music, play all of the instruments and arrange them himself and do the same for the other groups he worked with is a genius. The same way when he fought Warner Bros. to obtain all of the rights to his music and change his name to an unpronounced symbol that has never been done before in the industry at all. The way he moved across the stage and demanded your attention I don't think their is a Prince song that I don't know.
Who have you collaborated with so far in your career?
When I was overseas in UK me and my fellow soldiers Baltimore S.O.N, AKA and several others put out a single called "Command and Conquer" back in like 2003 I believe. Then me and AKA did a couple of songs together on my album she's a dope female rapper out of Jersey. This current release I have no features I wanted to just sit in the moment and pen out 14 tracks of what my life has been like these past years.
How do you think you differ from other artists?
I differ from other artist because I stay in my lane and don't follow what's out in mainstream. I'm more lyrical and will have tracks with a storytelling theme to it some rappers are not doing that now. I grew up listening to Slick Rick, Run DMC, MC Lyte, Wu-Tang you know those were the artists and groups that we wanted to emulate from how they rapped, how they dressed and their style of music. I've been told by a couple of people that some of my rapping sounds like Nas which I do take as a compliment because he too is one of my favorite artists as well. I also incorporate how God has changed my life in many ways and I try to include that into some of my songs.
Dead or alive, who would be your dream collaboration?
I know this may sound crazy but I would have loved to do a dream collaboration with Rick James. I love Rick and his band growing up that was all I heard and funk music in general he made you want to rewind the tape. Another person I would have loved to work with is George Michael. His voice was none like no other especially him being a blue eyed soul to me when I heard his collaboration with Mary J Blige I was blown away.
What was the first album you bought?
The first album I ever brought would have to be MC Lyte "Paper Thin" tape that was a single. I wore that tape out to the point it snapped in the tape deck! At the time female rappers were coming out I remember seeing that video of her rapping on the train to that dude at that moment I wanted to rap.
What's your favourite song at the moment?
My favorite song at the moment that's kind of tough because I don't listen to the radio a lot. But I have been listening to Mary J. Blige "My Life" on repeat when I just need a moment to breathe. Either that or I might throw on Rich Homie Quan "Walk Thru" when I'm in the gym for motivation. That beat is dope!
If you had to sell your music collection tomorrow, what album would you leave in your draw?
I would leave all of my Wu-Tang albums in the drawer ain't nobody getting those at all.
What is your favourite saying?
I say a lot of things but I say it in the moment. Keep grinding and following your dreams is the main one because you never know what may happen the next day.
What other hobbies or interests do you have?
Working out is something I like doing as a stress reliever. Also being with my family and friends keeps me grounded 100%.
Do you have any tattoos or piercings?
I lost count after 5 tattoos I believe I got like 12 total on my arms and legs.
Tell us more about your upcoming project or this new project?
I'm still writing rhymes every couple of days to keep me from getting the dreadful writers block usually when that happens it takes some weeks for me to get back in the rhythm. This new project with the album I want fans to know that I appreciate their support with me on this journey I have been on. You know 10 years is along time in between projects but it was a lot more easier to write and craft this one because I had a lot I needed to say and get out. Hopefully coming up sometime maybe early next spring I will be dropping another one so stay tuned.
What's in the pipeline after this project?
To keep promoting this project it's an every day thing I can't just suddenly stop what I'm doing the fans want more of what I have to say.
Thank you for your time and may you carry on making great, fresh music.
Thank you so much for this interview I gladly appreciate it. Again "23709" is available on all major music sites and stay tuned their is more to come.
FOLLOW ON: TWITTER | FACEBOOK | INSTAGRAM